Professional paints, equipment, supplies, and advice. For best results.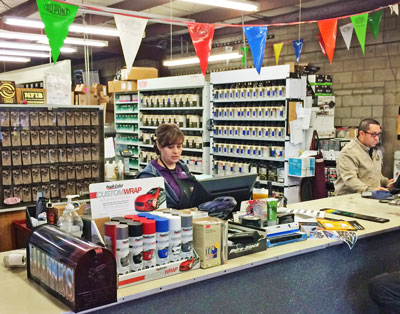 Whether you need paint for an automotive, industrial, or house project, Lalanne's has everything you'll need. We only carry professional paints, equipment, and supplies. It's important that your project looks good and that it lasts. That's why we don't mess with inferior products, even if they are name brands.
Expert Advice
Whether you're talking to one of our paint representatives out in the field or in the shop, you'll appreciate their solid advice and wealth of experience. Our reps develop and hone their knowledge-base from owners, Gary and Jon Lalanne. Plus they receive extensive hands-on experience, attend training seminars, and take online courses. Customers who have shopped elsewhere are often amazed at the expertise of our reps, not to mention their willingness to help.
Automotive Paint
Lalanne's started out in the automotive paint business. And we are definitely super-experts in that arena. Whether you just need a touch-up bottle to fix a scratch on your car, match a color for a body part replacement, or you want to change the paint job on your classic car, we have the professional grade automotive paint you need. Plus we can custom package virtually any color and most all paints in a spray can, so you can get that professional spray gun finish. Your projects will shine! Automotive paint brands we carry include Axalta (formerly DuPont Refinish), Cromax, Nason, Imron, Corlar, and Hot Hues.
Industrial Paint
High performance industrial paint lines from Axalta (formerly DuPont) provides long lasting protection from harsh weather, chemicals, and temperature variations. Plus these prevent rust and corrosion. Axalta recognizes Lalanne's as an Axalta Champion distributor.
Dunn-Edwards also makes a high-quality industrial paint with better durability than other name brands. Dunn-Edwards paints have a better look and last longer, saving you money.
Our customers are often surprised to find out how our brands of industrial paint are competitively priced.
DuPont (now Axalta) published a case study that cited the expertise of Jon and Gary Lalanne when selecting paint for crop protector wind machines. Here is the excerpt …
A Perfect Fit
Owners/brothers Jon and Gary Lalanne suggested a paint system from DuPont Industrial Coatings: IMRON® 333, a high-gloss polyurethane enamel, over DuPont 67-928 Fast Dry Primer. Jon Lalanne describes the system as a "perfect fit for what the customer needed."
Vamco tested the system and quickly agreed. According to Mark Veteto: "It's a fast drying system, low in VOCs, no lead or chrome in it, so we don't have to worry about all these environmental issues, and it's corrosion-resistant."
House Paint
Dunn-Edwards — Proven to look better and last longer. What does this mean for you? These products offer high-performing, durable finishes that help ensure your project turns out beautifully.
The Perfect Color every time — Dunn-Edwards provides user-friendly color selection tools, making it easy to pick the right colors. You may also download the Dunn-Edwards InstaColor app on your mobile device. Once your app is installed, you can point your device at any scene that inspires you, take a photo and the app will match the scene's colors to hues in the Dunn-Edwards Perfect Pallette® color system.
#1 Choice of Painting Professionals — Those who know house paint best know Dunn-Edwards outperforms and outlasts all other brands.
Better Ingredients Make Better House Paint — Dunn-Edwards offers only the finest products, ensuring that your paint project stays looking beautiful for years to come.
Paint Equipment and Supplies
Along with your paint, you're going to need equipment. No need to go anywhere else. We supply the following:
Aerosols: Paint / Primers / Clear — Aerosols work like a spray gun for professional quality repairs of minor paint damage
Spray Equipment (Sata and Iwata)
Power Sanders
Polishing Products
Polishers
Abrasives
3M Auto Body Repair Products
Remember, your paint project is only as good as your paint equipment.